BLN PRIZE UPDATE – DRAW DATE 15/01/2022
No winners this week so prize fund rises to £600.00 for next weeks draw on the 22/01/2022.

(Tosh Edmonds, winner of £2400, pictures with Colin Cameron)

(Jim Wagstaff winner of £2500, pictured with Colin Cameron)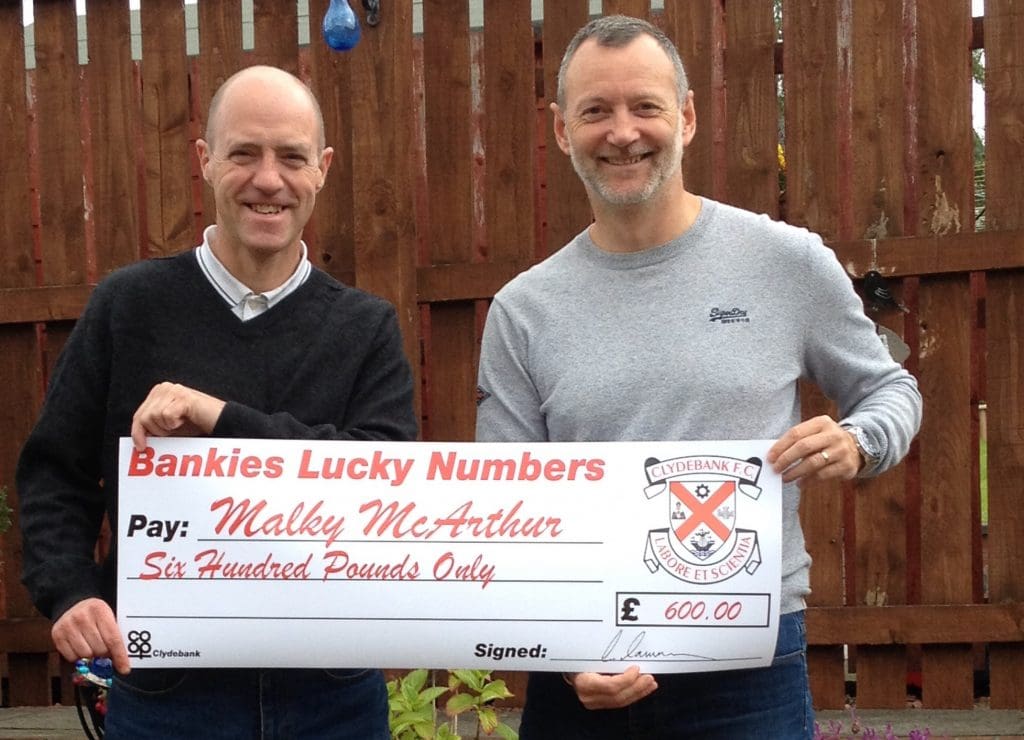 (Malky McArthur winner of £600, pictured with Magnus McGibbon.)
HOW TO PLAY BANKIES LUCKY NUMBERS
Each line entered costs 50 pence and you can select FOUR numbers between 1 and 59 to make up your line. When the Saturday Night National Lottery draw is made you need to match ALL FOUR of your numbers with with any of the six main National Lottery Numbers plus the bonus ball.
Match all 4 Numbers and you will Win the Jackpot (or share of the pot in the event of multiple winners).
You can have as many entries as you like but all players must be aged 16 or over.
PRIZES
Since its inception in 2004 over £15,000 of prizes has been paid out to Lucky Number entrants. Prizes have ranged in value depending on how much is in the pot and how often the pot 'rolls over'. When there are no claimants the jackpot on offer will rise by £50 from a starting prize of £500 up to a maximum of £2500.
OUTLETS
Tickets are on sale from Directors of the Trust, Directors from the Football Club. We are pleased to inform you that tickets are also available from a number of agents working on behalf of the Trust. Lucky Numbers are also on sale at all Bankies matches, home and away, so look out for your jolly ticket seller passing amongst the crowd.
AGENTS WANTED
We are always seeking help from our supporters in selling Bankies Lucky Numbers tickets. You do so in the knowledge that money raised will support the development of the club. Please drop into the club shop and ask for further details.
PROMOTERS
Strike it Rich Bankies Lucky Numbers is promoted by UCS Football Trust and is registered with West Dunbartonshire Council under the Lotteries and Amusements Act 1976. For the purposes of organisation and management of this scheme, all of the elected representatives of both the UCS Football Trust and Clydebank Football Club boards are considered to be the Promoters of the Bankies Lucky Numbers draw. Unlike other competitions where the promoter, their family and friends are not permitted to participate, Bankies Lucky Numbers allows anyone to take part. In the event that any of the Promoters were to hold a winning entry and in the interests of security Directors and agents have their number published in the news pages of this site every week. It should be noted, however, that on occasion several of the Trust and Club board and the Agents also purchase BLN tickets on the day of the draw and these numbers would not be published here due to time constraints.