JOIN UCS FOOTBALL TRUST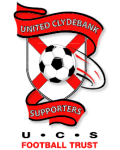 *The Trust is a limited co incorporated as an Industrial and Provident Society – UCS FOOTBALL TRUST is the Trading name and that is the name that will be referred to throughout , the actual name of the co is United Clydebank Supporters Ltd.
The Trust has been established with the aim of providing a mechanism by which the people of Clydebank and beyond , can have a say in the running of a rejuvenated Clydebank FC playing once more in the town of Clydebank. It is expected that the Trust will always be the majority shareholder in Clydebank FC and as such will expect to have the deciding say in how the club is run.
The rules by which the Trust has been incorporated are available for inspection on request to one of the Trust Board. All members are expected to abide by the model rules and to adhere to the principles upon which the Trust has been formed – i.e. an organisation which will endeavour to strengthen the bonds between the Football Club and the town of Clydebank and to represent the interests of the community in the running of the club.
Any amendments or additions to terms of membership will be communicated directly to the membership. Currently the membership fee is £10 paid annually upon renewal. Additional contributions – payable by standing order by cheque or other means will be gratefully received, although the Trust retain the right to refuse a donation or an application to join without recourse to an explanation.
In order that we can proceed with your application – please complete the application form and return to a Trust director or post to the address listed below. You will be given a membership number which will be unique to yourself for the lifetime of the Trust. You will be issued a membership card and this will be what identifies you as a Trust member. You will need this card to take part in votes unless your identity can be vouched for by a member of the Trust Board. The membership number will also be used to identify any payments that are received by Standing Order or other.
Thank you for applying to join the Trust. We hope that you will be willing to take an active role and get involved. It's only by members doing this that we will achieve the success that we're due.