MAIN CLUB AND SHIRT SPONSOR OF CLYDEBANK FC – CLYDEBANK CO-OP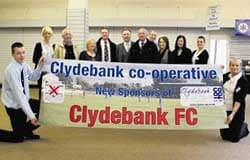 Since the summer of 2012, our shirt sponsor is the Clydebank Co-op. As a community-based club it is good to be so closely involved with a company that is at the heart of the town. We are delighted to have attracted the Clydebank Co-op as our main sponsor and it is a tremendous boost for us as we enter the new season.
Stevie McLaren, Clydebank FC's commercial director, said: "When the opportunity came up to join forces with the Co-op it was fantastic. The Co-op has been here for 132 years and this is a great sponsorship for us and the community as a whole."
Robert Sider, Clydebank Co-op chief executive, added: "Myself, the executives and the board are absolutely thrilled to get the opportunity to take on the sponsorship of Clydebank Football Club. "It's two long established institutions in the town coming together at just the right time.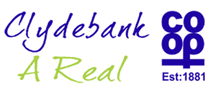 Home kit sponsored by Clydebank Co-op" Over the last couple of years we have been very active within the community and this is not purely a commercial venture for us because we feel it is important that the club gets as much support as possible."
Anyone wishing to take advantage of our sponsorship opportunities should contact:
Stephen McLaren, Commercial Director (tel No 07946-680812 or email [email protected]).