Academy Vision 2023
The academy's main aim is to build a strong sense of community within the town and it plans to do this through Vision 2023.Vision 2023 aligns itself with the Bankies senior team playing junior and semi-professional football for 20 years, The main objectives for the academy to achieve by then are :
Accreditation – To achieve silver quality mark status in the SFA's quality mark programme and progress towards gold and platinum.
Community – To use Clydebank FC as a positive institution by creating and implementing initiatives that will benefit the local community. The plan is also to create a closer link between the academy and the senior team.
Environment – Develop a successful pathway for talented, ambitious players from the academy to the first team. Also the aim is to implement club strategies which creates an environment where every member
All you need to know about Vision 2023 can be found in the clubs culture plan and welcome pack here –
View the Welcome Pack (08/21)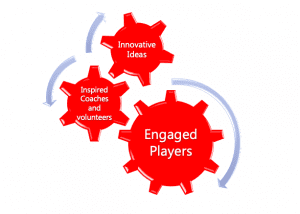 Club Strategy –
There are 3 main components to the clubs strategy which are :
To produce innovative ideas to help the progression of the academy.

To develop inspired coaches and volunteers who have the academies best interests at heart.

To ensure that players are engaged with the academy and are striving for success.