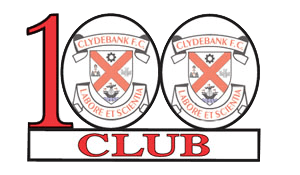 Over the last few seasons it has become clear to the Club Board how difficult it is to generate the money required to keep Clydebank FC competitive at the top level of the non-league structure. We took a look at how best to generate cash without adding fundraising nights to an already busy social calendar.
This process led us to The 100 Club. The 100 Club is a scheme that allows supporters, and businesses to donate cash directly to Clydebank FC to help the club go from strength to strength. The 100 Club allows supporters to donate a minimum of £100 per year to Clydebank FC. If you can spare a minimum of £8.33 a month you can join – although more is always welcome!
All money raised will go towards the running costs of the club and raising the managers transfer budget where possible. It is important to note that this is not a begging bowl. Clydebank FC don't owe a penny to anyone. We pay our way and live within our means. This is simply a way for the club to ask fans, who have the means, to donate a little extra to keep the club in rude health. Members' names will appear in the match programme and on a special page on the website, or can remain anonymous if desired.
All board members have already joined the Scheme. The 100 Club succeeding is very important to the future of Clydebank FC. If you can afford to join, please do. As a token of our appreciation all members will receive a specially commissioned badge.
Payment is by standing order, but alternative payment arrangements can be made, and you should speak to a club director if you need more information.