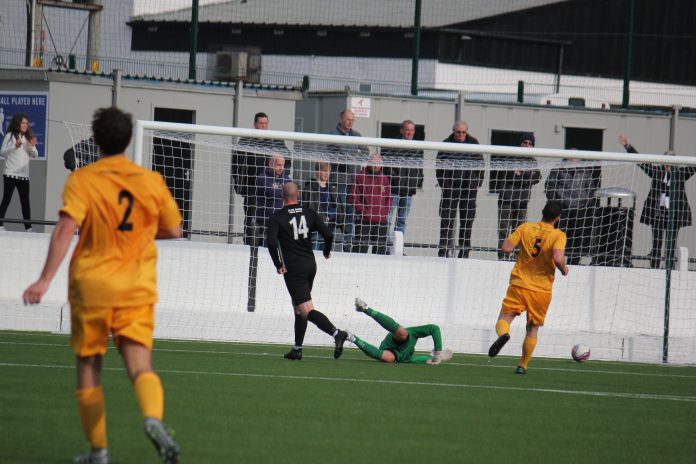 Bankies crashed out in the first round of the West of Scotland Cup after capitulating 4-0 to Cumnock on Saturday.
Adam Hunter opened the scoring on the stroke of half time before three goals in the final six minutes of the game from Sean McKenzie, Scott Anson and Mark Williams saw Cumnock safely through to the second round.
Bankies boss Budgie McGhie made two changes to the side that beat Girvan last weekend, with Robert Tiropoulos replacing Josh Lumsden between the sticks and Hashim Cole replacing Andy Paterson at left back.
It was a fairly subdued first half at Townhead Park, with Jordan Shelvey heading over from Robbie Halliday's free kick being the only real chance of note.
Bankies were forced into an early change midway through the first half, with Alan Frizzell replacing the injured Cammy Haddow.
As half time approached, Cumnock took the lead. After Calum Gow was adjudged to have fouled on the edge of the area, Adam Hunter squeezed the ball through a prominent gap in the wall as the home side went into half time a goal to the good.
Into the final ten minutes of the game, Bankies stepped up their efforts to get back into the game. Jamie Darroch let fly from the edge of the area, but Nock stopper David Buchanan tipped the centre back's shot round the post.
Bankies continued to press and Cole, making just his second start of the season, whipped in a cross which Jordan Shelvey got the merest of touches to, but the ball cannoned off the post and away to safety.
With six minutes remaining, Cumnock were the seal their win with a second. Clydebank failed to clear their lines, and a shot from the edge of the area hit McKenzie's back and trundled past Tiropoulos as the home side fortunately doubled their lead.
There was nothing fortunate about number three though, as Scott Anson seemed to waltz through on goal to comfortably slip the ball past Tiropoulos for a third time.
As the clock struck ninety, Cumnock added a fourth and final goal of the game. A neat one two between McKenzie and substitute Williams saw the former play in the latter, with Williams able to stroke the ball across Tiropoulos as Bankies exited the cup with a whimper.