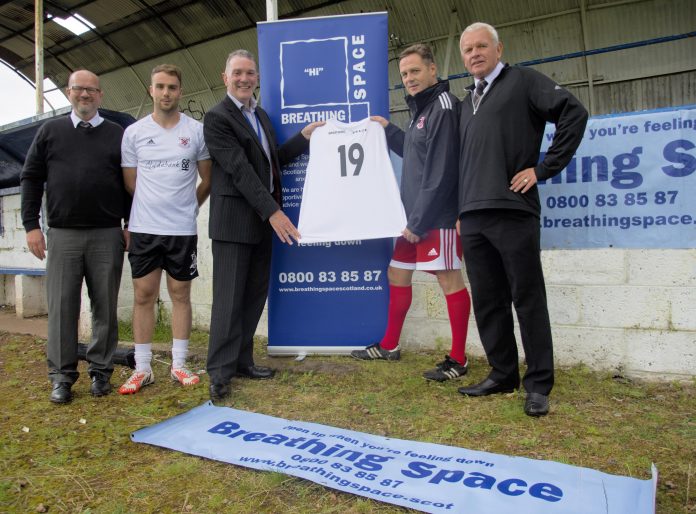 Clydebank FC have officially launched the partnership with Breathing Space for the 2016-17 season.
With the Super League First Division season now underway, this season's home and away kits will display the Breathing Space logo above each player's number.
As well as the kit logo, branded banners will go on display in and around Holm Park. 
Speaking after launching the partnership, Tony McLaren, Breathing Space National Coordinator commented:
"All too often it's just assumed those who play football 'have it together' as it were,  but we know that isn't always the case. The players at Clydebank will have their own anxieties with their day jobs, families and relationships and it's about how we provide a service that is an option for everyone."
I would stress as well it's vital management appreciate that, for many of the young men who play for Clydebank, they are the best resource and look after everyone as best they can. That's something I know the coaches here are very understanding of.
Through the partnership with the football club we want to do our bit to challenge both humour and the words that are used regarding mental health to ensure no one suffering from a mental illness feels alienated, ostracised or ultimately alone."
Clydebank director Matt Bamford added:
"It's very important that we try and eradicate the stigma of mental health so a partnership like this is great for the club. It's an unseen illness and people sometimes get embarrassed to talk openly if they are suffering, and we at the Bankies want to help to change that."
If you think you need breathing space call free on 0800 83 85 87 or visit www.breathingspace.scot for further information.